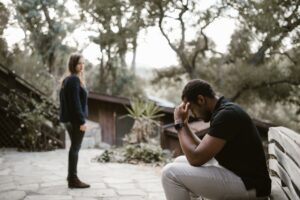 You have been married for about ten years and although you know that your relationship is not like a fairytale and it may not have been exciting all the time, you did not ever think your wife would leave you. Your wife started becoming more distant months ago. You thought that it was normal because caring for the children is exhausting and you were working hard trying to make ends meet and saving for your future . . . your future together. Then your wife started discussing separation. One day she packed a suitcase and left. You are devasted and lost. You then found out that she is dating someone and you suspect she has been seeing this person for a while – even before she mentioned separation. You suspect she left you for this other man. You have heard the term "alienation of affection" and you wonder if you might have a case against this man who stole your wife's love from you.
Alienation of affection is a claim against a person other than your spouse who interfered with your marriage and stole the affection of your spouse from you. If you were in a loving and affectionate marriage and someone has maliciously interfered in that relationship with the intent of breaking up your marriage, you might have a claim for alienation of affection. A malicious act has been defined to include any intentional conduct that would probably affect the marital relationship. Malice is conclusively presumed by showing that the person engaged in sexual intercourse with your spouse. However, sexual intercourse does not have to be proven. Separation is difficult and knowing that another person may have caused that separation is heart breaking.
If you think you might have a claim for alienation of affection, contact us for a consultation. We can help guide you in deciding whether you should pursue that claim.
---
Related Articles
Other Links
CNN – "A North Carolina man just won a $750,000 lawsuit after suing his wife's lover"